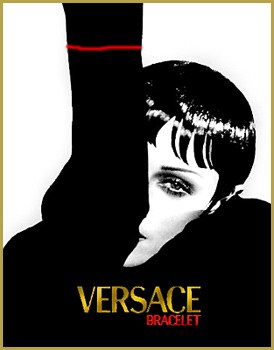 Rumors that Madonna is in talks to star in Versace's 2005 ad campaign are far beyond the "conversation stage" according to sources close to Towleroad. A set of images has already been shot.
Eager to bring cutting-edge style back to the house of Versace, Donatella Versace has decided, for 2005, to forgo all that bothersome sewing and lamé and will instead sell red string bracelets.
Each red Italian silk bracelet will come with a 24k gold Medusa bead and will retail for $1200.00
Towleroad has been offered this exclusive image from the forthcoming campaign.