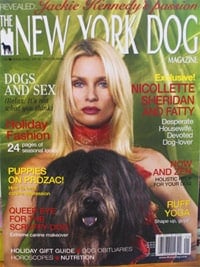 Some housewives are more desperate than others to get on the cover of a magazine these days.
The New York Dog Magazine features an exclusive (Vanity Fair eat your heart out) feature on Nicollette Sheridan and her pooch Fatty. Sheridan tells all regarding her intense love affair with Fatty, Fatty's fear of horses, and on-set antics at Desperate Housewives where Fatty is an almost daily annoyance visitor. Cindy Adams would be proud.
NYD is quite the campy (crack-smoking art directors aside) page-turner, treating the upscale dog better than most middle class wage earners. We're especially fond of the warm and fuzzy obituaries: "As she grew from puppy to young adult in Trisha's Murray Hill high-rise, Maxie endeared herself to everyone. Never scratching people's shins in the elevator; never barking in the lobby; never indulging in gratuitous licking…"
Sit Ubu sit. Good dog.