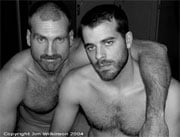 Seattle Quake Rugby, a predominantly gay rugby team, offers up their own rough and ready calendar for 2005 .
Via Outsports: "Quake members come in all kinds of shape, size, and flavor," says Will Mapel, who coordinated this year's efforts. "We're one of the most diverse rugby clubs in the country and it only makes sense that we try to reflect that in the images we present."
I couldn't help but be amused by the placement of one (lowermost) player's arm in the photo on the left, and by the fact that the player on the right seems to have forgotten his uniform entirely. This team may come in many flavors as Mapel notes, but there's likely not a lot of vanilla.