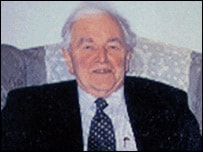 An 83-year-old retired army officer in Britain was shot dead on his doorstep in a killing that many are saying relates to clandestine gay affairs and his secret homosexual life.
Lieutenant Colonel Robert Workman was a loving husband, survivors say, but the incident reminds us that many in the military, both abroad and in America, still must lead secret lives.
That may be changing, however. A military appeals court recently overturned the conviction of a soldier for heterosexual sodomy in a move that many say opens the door to reconsidering the "Don't Ask, Don't Tell" policy put in place during the Clinton years. The decision, based partly on last year's Lawrence vs. Texas ruling that declared a Texas sodomy statute unlawful, is a "forward step" according to Harvard military law professor Eugene Fidell.
The Supreme Court recognized "an emerging awareness that liberty gives substantial protection to adult persons in deciding how to conduct their private lives in matters pertaining to sex," the court wrote, adding, "It is a promise of the Constitution that there is a realm of personal liberty which the government may not enter."