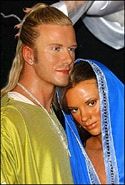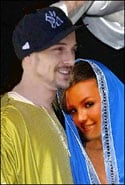 The Madame Tussaud's wax figures of Joseph and Mary, played with stoic reserve by David and Victoria Beckham, have been damaged in an attack by a spectator, who apparently punched them and fled. The waxwork couple has since been removed.
So on to more important things. Who will replace Becks and Posh now that they've been vanquished? We hereby nominate the other couple whose marriage record befits an exhibit with the taste of this one.
While Joseph and Mary are certainly the focal point in the story of the birth of Jesus, it's puzzling to Towleroad why the figures of Becks and Posh would be interpreted as more scandalous to an onlooker than the cynical placement of the nearby Wise Men, George W. Bush and Tony Blair (who've attracted the least of the attention), whose "wise" policies together have caused more Western-influenced death, strife, and conflict in the Middle East than any in modern history. Food for thought.
P.S. — Note to attacker: Wax melts. Next time try a lit match.