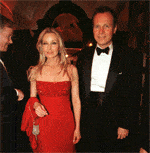 Find the full text of David Dreier: Gay & Ashamed at LarryFlynt.com. This is a fairly scathing exposé, however it doesn't help anyone's cause when someone like Randy Economy, campaign manager for Dreier's Democratic opponent in '98 says "It's common knowledge up on the Hill that David Dreier is just a big, huge fag." That statement is repulsive. Yet Dreier's hypocrisy should not be ignored.
Excerpt: Assured that local reporters would guard his secret, Dreier has amassed an antigay voting record so egregious that it has helped him garner a 92% approval rating from the Christian Coalition. Apparently the evangelical group failed to notice that Dreier's roommate and constant companion is none other than Brad W. Smith, his appropriately entitled chief of staff.
It's sad and strange, but today Hustler seems the oddly appropriate (and only willing) print media vehicle for the delivery of this kind of information.