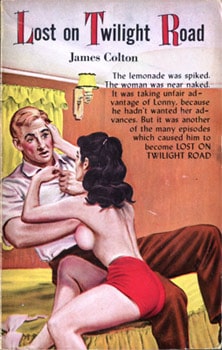 Mystery novelist Joseph Hansen died November 24th at his home in Laguna Beach. He was 81. Hansen published several novels and short stories under the name James Colton that featured some of the mystery genre's first homosexual characters.
Here is one of Colton's book covers, Lost on Twilight Road published in 1964. A great "pulp" cover that attempts to disguise the book's subject matter. How things have changed. It's rare to walk into a gay fiction book section today and not see rows of bare male torsos on the jackets.
Ian Young, who owns a specialty bookshop in Canada devoted to rare and out of print books, writes, "Publishers of early gay paperbacks sometimes hedged their bets in an attempt to appeal to a wide readership. Here, only the code word "twilight" — and perhaps the man's expression — suggest gay content. Turn the book over and more is revealed by the back cover text. "James Colton" was one of the pen-names of Joseph Hansen, later the creator of gay detective Dave Brandstetter."
Hansen also worked for the pioneering gay magazine One and helped found the first Hollywood Gay Pride Parade in 1970.