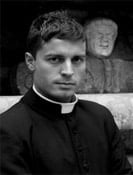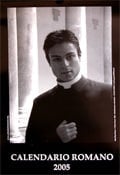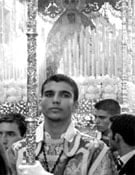 Think of it as Vatican City's answer to Dieux du Stade! Though no matter how hard you pray, you're probably not going to be seeing much skin in the Calendario Romano, a 12-page calendar of hot priests and seminarians. It's not officially associated with the Vatican. The London Telegraph reported that "Vatican insiders have described its publication as 'unbelievable.'"
They are now casting for the 2006 edition, so if you're studying for the priesthood and you've got a hot set of rosary beads you'd like to show off, don't pass up this opportunity.
The only place it's available in the U.S. is at the Rizzoli Bookstore in New York.
thanks, James (via Andrew Sullivan)
ADDENDUM: A reader kindly points us to this site where the calendar can be fully viewed and purchased, and where you can also see its companion, the equally bizarre "Gondoliers".
"I know the priests are handsome, but what's wrong with that? If I was doing a cat calendar I couldn't show old moggies with no teeth."   Piero Pazzi, photographer