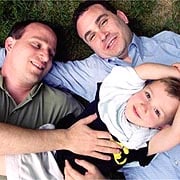 President Bush spoke to The New York Times on Thursday in a wide-ranging interview in which he surprisingly did not make any mention of gay marriage, but did comment on the Florida law banning gays from adopting children and in a few short sentences used the word "ideal" no less than seven times.
BUSH: "The ideal in society is to raise children with a man and a woman. Private adoption firms can make whatever choice they choose to do. As president, I will always be aiming for the ideal. I don't know this particular case. …
I just said the ideal is where a child be raised by a man and a woman. That's the ideal world. A married man and a woman. And as governor and as president – when I was governor of Texas my position was that this is the ideal.
And I believe children can receive love from gay couples, but the ideal is – and studies have shown that the ideal is where a child is raised in a married family with a man and a woman."
I'm not sure what studies Bush is referring to but in fact, the American Academy of Pediatrics released a statement in 2002 that said "there is a considerable body of professional literature that suggests children with parents who are homosexual have the same advantages and the same expectations for health, adjustment and development as children whose parents are heterosexual."