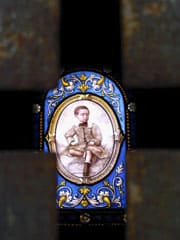 The battle lines have been drawn in Orange County, California as a two-father family enrolls its two kindergarten-age boys in St. John the Baptist, a Catholic school in Costa Mesa. The enrollment has inspired 18 parents to send a letter to the school demanding that the boys be kicked out because their parents are living in sin.
Surprisingly, Father Martin Benzoni, who oversees the school, has rejected their request outright, the L.A. Times reports. In response, he created "a new policy stating that a child's education comes first and that a family's background 'does not constitute an absolute obstacle to enrollment in the school.'"
Catholics are split on the issue.The president of the Roman Catholic Faithful, Stephen G. Brady, responded, "Is the church going to teach them that their parents are going to hell for the lifestyle they are living?"
William Donohue of the conservative Catholic League, disagreed: "To single out these kids because of their gay parents would be invidious. You cannot burden the innocent."
At the crux of the battle is the issue of banning children for the actions of their parents, which leads to a host of other divisive woes should the school to have to take abortion rights and birth control views of parents into consideration when enrolling students.
Now the church must choose whether its teachings are in line with the changing world and take a stand on not only the double standards it allows but on whether teaching the faith is more important than tolerance and compassion. You can be sure we haven't heard the end of this.
Enrollment of Gays' Sons Roils O.C. Catholic School [L.A. Times]