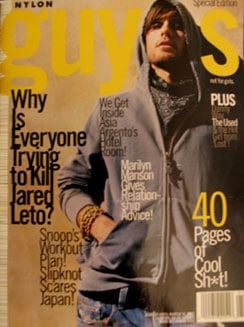 Thursday night's launch party for the new guy's version of Nylon magazine (called Nylon Guys) was worth going to for half an hour — enough time to get hammered for free and flee with the requisite gift bag, which contained said publication and a bunch of other "guy" items:
1 Energie lip balm
1 Adidas "Moves" cologne
1 tube of Bumble & Bumble grooming creme
A complete set of zihr skin products
$25 off a Penguin shirt
A Nylonmag.com sticker
A cryptic CD with one track on it featuring a woman reciting some poem about the wonders of a trenchcoat:
What an adventure is the trenchcoat that you've just purchased—
both sexy and dangerous, it can be your personal shelter
or your garment of espionage
Unfortunately, there was no trenchcoat in the gift bag, which would have been nice considering the amount of snow we're going to get today. And in a sad coda to this story, the evening was a net loss as I put my scarf and gloves in my bag and due to a drunken gift-bag-mix-up at a crowded East Village bar those items are now gone forever.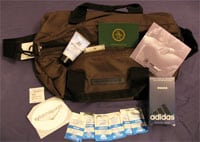 As for the magazine itself, it appears to be attempting to be an edgy hybrid of Cargo and Paper. There's also a strangely annoying design element that makes it look like your six-year-old niece scribbled things in the margins and circled random words with a ball point pen. I guess that's edgy?
The first issue features Jared Leto, who says he hasn't seen Alexander yet and admits it wan't hard for him to look "smitten" with Colin Farrell. "I have very strong feelings for Colin as a person, so it was easy for me to be full of love. I understood what it was about. There are a lot of actors who would be uncomfortable exploring that territory. Or who would feel like they have to protect a certain image. I don't give a fuck."