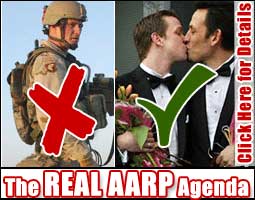 Richard Raymen and Steven Hansen were surprised recently to discover that their wedding photo is being used by USA Next in an anti-gay ad campaign.
The conservative organization illegally appropriated the gay couple's wedding photo for use in an anti-gay campaign extolling the virtues of President Bush's Social Security privatization plan. A statement from the couple's attorney reads:
"In 2004, our clients allowed their picture to be taken at their public celebration, as couples getting married do every day. They did not volunteer to be models for a 2005 right-wing hate campaign, and never would have consented to having their images plastered in an ad of any kind, much less the one USA Next chose to run. The USA Next ad communicates the false message that gay marriages generally, and our clients specifically, are the antithesis of supporting American troops during wartime. Gay marriage, and our clients' ceremony, have nothing to do with support of the troops. Our clients are patriotic Americans who strongly support our service members."
No suit has been filed yet in the case.