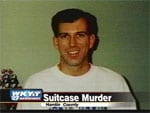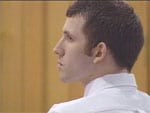 Two murder cases made headlines on Monday, and "gay panic" is at the center of the defense in both of them.
Entitlement to fight back from being raped or sodomized under Kentucky law got 23-year-old Joshua Cottrell (right) a manslaughter and theft charge Monday for the grisly murder of Richie Phillips, 36. Phillips was killed in Cottrell's motel room in June 2003, and his remains were found stuffed in a suitcase at the bottom of a lake over a week later.
AP: "Prosecutor Chris Shaw said in closing statements that Cottrell harbored a 'steaming anger' toward gay men and lured Phillips to his motel room to kill him. Shaw said Cottrell's 'intent all along was to kill' and dispose of the body in a "cold, calculated" scheme to 'get away with murder.' In the days after Phillips' death, Cottrell was seen laughing, joking and partying by some of his relatives, Shaw said, undermining the defense's portrayal of Cottrell as scared and panicked."
Kentucky Man Gets Manslaughter in Gay Killing [AP]
******
The trial of 19-year-old Gary Hirte, who murdered 37-year-old Glenn Kopitske in this isolated house in Wisconsin one July night in 2003 got underway Monday as well, with the defendant's lawyer charging that Hirte had a homosexual encounter with Kopitske he was so ashamed of that he shot him with a 12-gauge and stabbed him twice.

There has been no evidence in the case so far that has suggested a relationship between the two men, and the "gay panic" defense contradicts most of the evidence — that the murder was planned long in advance by a confident, overachieving young man suspected of committing the killing "to see if he could get away with it."
Hirte would have committed the perfect murder, investigators say, if he could have kept his mouth shut. Instead, he bragged to friends, one of whom eventually went to police.
The saddest facts about this case reveal Kopitske's isolation, eccentricity, and loneliness. Kopitske was bipolar, played bit roles in community theater yet did not socialize with other members of the cast, and tried running for President of the United States at age 30 without realizing one had to be 35.
Kopitske's body was not discovered for days; by that time it had badly decomposed.
CourtTV.com:
"If, as police surmised, Kopitske had been chosen precisely because he was a sad, lonely little man whose passing would go unnoticed at first, the choice was a savvy one. A couple of days after his death, Kopitske's mother, a woman who was, by all accounts, devoted to her son, would stumble across his body. But immediately after the slaying, the little mixed-breed dog that Kopitske had rescued was the only living creature that missed him."
The "gay panic" defense is being used in the trial this week which will determine if Hirte was insane at the time of the killing. Gay panic defenses are not new, as you'll remember from this trial, but they seem mighty fashionable these days.
Trophy Hunt [Court TV]
Eagle Scout Trial Begins [Milwaukee Journal Sentinel]
Homosexual Panic Defense Angers Groups [Gannett Wisconsin]