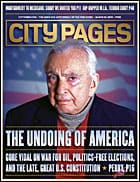 This one's a bit less shrill than the last Gore Vidal interview I read in the L.A. Weekly, but no less interesting. Vidal talks to Minneapolis/St. Paul's City Pages on the undoing of America:
"Well, the Congress has ceded–which it cannot do–but it has ceded its power to declare war. That is written in the Constitution. It's the most important thing in the Constitution, ultimately. And having ceded that to the Executive Branch, he can declare war whenever he finds terrorism. Now, terrorism is a wonderful invention because it doesn't mean anything. It's an abstract noun. You can't have a war against an abstract noun; it's like having a war against dandruff. It's meaningless.
But you can terrify people. The art of government now, the art of control as practiced by the current junta, is: Keep the people frightened. It's exactly what Adolf Hitler and his gang did. Keep them frightened: The Russians are coming. The Poles are killing Germans who live within the borders of Poland. The Czechs are doing the same thing in the Sudetenland. These are evil people. We must go after them. We must save our kin.
Keep everybody frightened, tell them lies–and the bigger the lie, the more they'll believe it. There's nothing the average American now believes (because he's been told it 10,000 times a day) that is true. Now how do you undo so much disinformation? Well, you have to have truth squads at work 24 hours a day every day. And we don't have them."
The Undoing of America [city pages]