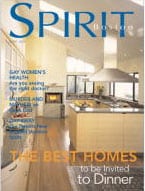 Spirit, a new bi-monthly glossy is launching aimed at Boston's affluent gay market. Investing, luxury homes, and family issues will be at the heart of Spirit's editorial slate and they've already picked up a first round of advertisers that include BMW; Lux Bond & Green; Shreve, Crump & Lowe and furniture maker Adesso.
Executive editor Steve Lyons told the Boston Herald, "We're about more than sex, drugs and HIV. We are a lifestyle magazine and lifestyle encompasses a great many areas. We don't focus just on the politics of gayness or the so-called nightlife culture of the gay and lesbian community."
It will be interesting to see how a niche upscale glossy fares in a local market. It seems to have worked for many mainstream city-oriented magazines. But will they, in a few months, have to start replacing some of their sophistication for sexiness due to market pressures? For instance, pushing aside that piece on whipping up a cranberry creme brulee for Thanksgiving in favor of an article on the 10 hottest Pilgrims who landed in Plymouth? It ain't easy, but if they're trying something different, more power to 'em!