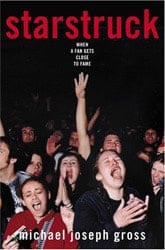 One only need look at the proliferation of entertainment news and celeb-oriented blogs like Defamer, Pink is the new Blog, PageSixSixSix, and A Socialite's Life to comprehend how the cult of celebrity has developed into an industry with an unending supply of raw materials.
My friend Michael Joseph Gross has just written a hypnotic memoir on celebrities and their fans called Starstruck: When a Fan Gets Close to Fame
. I call it a memoir because it's written from the perspective of a small town fan who escaped his rural hamlet of Winchester, Illinois to write about celebrities for publications like the New York Times, Entertainment Weekly, and The Nation, eventually moving among the stars he used to idolize from afar.
Michael's book details his solitary childhood as a hungry autograph collector, when he sent hundreds of letters off to famous people asking them things like, "To what do you attribute your success?" Many times he received letters back that fed his thirst for contact like one from Gene Wilder that answered, "I owe my success to my neuroses."
In Starstruck Michael vividly reveals the stories of dozens of fans that are not unlike himself at an early age — Chad Evans, "a twenty-year-old Starbucks barista from Boston with the watery dark eyes of a night owl" who shows up at the taping of Madonna's guest spot on Will & Grace to make contact with Debra Messing and Mrs. Ritchie, a pair of girls that travel hundreds of miles by bus to wave at Winona Ryder at her shoplifting trial, or Michael Jackson's "lost girls who seek to salve their loneliness in fleeting moments of contact with a person they will never really know."
But the brilliance of Starstruck is how Michael's own story becomes part of the fabric of the tale. There's a chapter on Sean Astin in which Michael goes from a meticulous observer of the "people storms" that occur when the actor walks through crowds to being absorbed into the actor's personal circle. It's a fascinating journey that reveals how celebrity and the bumps in the road that come with it create an ego that can destroy one's capacity to have empathy with anyone besides the fans.
Aside from the deeper themes that run throughout the book, it's also like reading a very smartly written gossip column, with hundreds of juicy items about Mary Hart, Tom Cruise, Kelsey Grammer, Katie Couric, Sean Hayes, Dolly Parton, Mena Suvari, Mickey Rourke, Hollywood pissing matches between press and publicists, and a real look behind the scenes at the publicity machine that drives Hollywood.
Trust me, this is great summer reading.