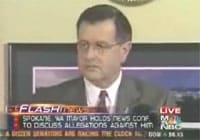 Fire up your WMPs and listen to anti-gay Spokane Mayor James West's statement of this afternoon, denying all the allegations that he molested underage men and offered city jobs to men he met in Gay.com chat rooms.
"The allegations that I molested young boys over 20 years ago are entirely false. These allegations and inferences drawn from them are totally without merit. I categorically deny them. I have never had improper contact with a child….I have not used the internet appropriately while at City Hall or on City time and I have not used the city email system inappropriately."
The most baffling moment of his statement comes as he asks citizens to remember that he worked hard for Spokane even as he battled colon cancer. While the plight of all those affected by cancer is certainly one to sympathize with, unfortunately for West there has been no connection drawn between cancer victims and homophobic hypocrites.
Related
Just Doesn't Get It [tr]