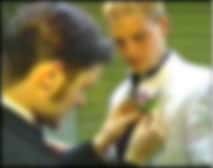 Check out this beautifully written piece in the NYT by high-schooler Frank Paiva on his role as the "gay best friend" attending proms with girls who need dates. Not only does it provide a glimpse into the world of today's high school prom, it really gets into the psyche of any gay man who has ever attended a high school dance with a girl, dreaming of what it might be like to attend with a guy:
"When we walked into the dance, the two of us would initially stun people, not because we were two guys but just because we looked great. I wouldn't care if I had to learn to make clothes myself if it meant avoiding that awkward "I rented this, and it doesn't quite fit" look. I would be able to hold his hand all night without feeling weird or attracting attention. By the time it was over, we would be so tired we wouldn't even care."
It's not often that you see the "otherness" gay youth experience in school so well articulated, particularly in a first person account like Paiva's. But the message that really comes through beyond anything else is his sense of hope, the most powerful lifeline of all.
A Prince Charming for the Prom (Not Ever After, Though) [nyt]
(thanks Michael)