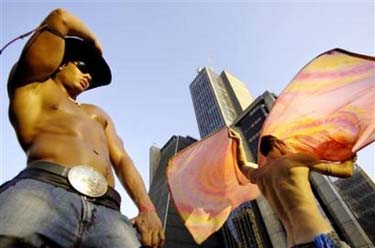 In contrast to Bucharest, Romania's Pride parade over the weekend in which 500 courageous people marched, Sao Paulo hosted what many are saying is one of the largest Pride festivals in the world — ever.
Approximately 2 million people took part in the massive event, its focus on the legalization of same-sex marriage in that country. This is Sao Paulo's 9th annual parade.
While it's always the more colorful elements of the event that news photographers train their lenses upon and not the attendees in more conventional attire, it's interesting to note the contrast between the carefree attitude of these drag queens and the ones in the Bucharest parade who can't help but reveal the marked difference between these two ceremonies.