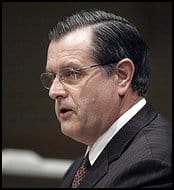 Spokane Mayor James West sent an email to a private citizen that was mysteriously(!) leaked to the press on Friday. In the email, which West said he didn't want made public, the embattled Mayor said that he has changed his ways and that many people have been calling to give him encouragement, including former Boy Scouts!
Said West, "I appreciate your comments but like King David in the Bible I will be a better mayor now. I will be more focused and more driven to see this city succeed in all areas. My faith in Jesus Christ and the Lord tell me this will be done. This episode has done four good things for me so far and more are on the way. I have stopped a behavior I wanted to stop but couldn't do alone but didn't know how to ask for help to end."
The anti-gay Mayor has been under scrutiny for allegedly molesting underage boys in the 70's and offering city jobs to young men he met on Gay.com. He ends his email by saying, "God has forgiven me and that's all I need." Do I hear an echo in here?
Read the full text of the email at the Spokesman Review.
Related
The Hypocrite Speaks [tr]
James West Denies Allegations, Refuses to Resign [tr]
Just Doesn't Get It [tr]