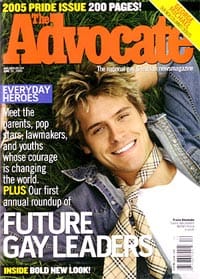 I was happy to see the the Advocate was featuring six "future leaders" as their cover story for gay pride month but I was a bit surprised, given their worship of openly gay cover boy Sigma Chi brother Travis Shumake, to read that some of his very basic beliefs about homosexuality spit in the face of my own:
"One topic Travis has not quite broached at Giuliano and May's Sunday dinners is his belief that homosexual acts are a sin. In fact, he tosses out this conclusion so casually that it requires a few minutes of back-and-forth to clarify. Does he mean hooking up with any person before marriage? No, he replies, it is that he's hooking up with a guy. Not that this presents a crippling moral dilemma for him.
'You sin as much as I do,' he tells his straight Christian friends who bring this issue up, 'and this is just one of my sins. It has no heavier weight than your sin, and I ask for forgiveness, and you ask [for] forgiveness, and we're good to go.'"
I have no objection to beauty worship or pretty boys on the covers of magazines — I know from experience that it sells them. But I do feel slightly betrayed when I read an article and admire five out of six of its subjects, yet the one with the most questionable (dare I say self-loathing) philosophies is worshipped with a cover and four-page photo spread straight out of the pages of Abercrombie and Fitch.
Could the Advocate have featured any one of the other kids on the cover? Could they have done without the four page "boy with horse"/"boy rolling in grass with tummy showing" fashion spread in the context of a "gay future leader" article when the five other minority and female kids are given thumbnail photos in comparison?
Is it a sign of the times that the Advocate is elevating Christian youth who share values with religious leaders who would send us to hell? Is it a hip story, then? I don't disdain Christians, just the hating homophobic ones. The magazine might have presented Travis in a way equal to the other kids—just one of six kids, each with his or her unique story. Instead, they pictorially masturbated over a kid who thinks homosexual acts are a sin, and in their own way showed a certain tolerance (fueled by a calculated grasp at newsstand sales) for the filthy rhetoric the religious right uses to try and deny rights to most of their readers.
Still, compared to most of the work they do, this infraction is a minor (if greedy) sin. I suppose if they ask for forgiveness from the magazine gods they'll be good to go. That's all it takes, right?