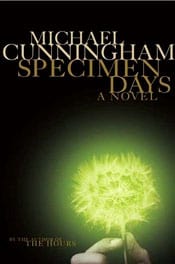 I'm eager to get my hands on a copy of Michael Cunningham's new novel Specimen Days
, his first since The Hours, though reviews have been mixed. It's another novel in three parts, though this time its overlord is not Virginia Woolf, but gay American poet Walt Whitman.
Whether or not the various stories come together as a whole, I have no doubt I'll (as always) find Cunningham's prose delicious. Some reviews:
New York Observer: "What is much more to the point is that Mr. Cunningham has created a recurring parable or myth, in contexts rendered with such a high mix of literary skill and mischief that disbelief is not really available."
New York Daily News: "'Specimen Days' in a sense continues 'The Hours,"' expanding its argument that the written and the written about cannot keep their hands off each other. The writer gets to fill in the blanks between past, present and future that remain."
San Francisco Chronicle: 'Specimen Days,' which, by the way, takes its title from Whitman, is ultimately a meditation on life and death that celebrates the spiritual connection that Whitman and Cunningham see as the stuff that links us not only to each other but also to those who have gone, as well as those who are yet to be.
New York magazine: "Specimen Days…abounds with plots—a ghost's, a terrorist's, a robot designer's. Cunningham is still fonder of juxtaposition than sequence, and characters still lapse on occasion into a mystifying dreaminess of motive. But plot is crucial to ghost stories, thrillers, and science fiction, and Cunningham's experimentation with the genres brings his prose a new energy."
The New York Times: "Whereas "The Hours" overrode its schematic structure with its closely observed characters and intricate musical patternings, "Specimen Days" reads like a clunky and precious literary exercise – a creative writing class assignment that intermittently reveals glimpses of the author's storytelling talents, but too often obscures those gifts with self-important and ham-handed narrative pyrotechnics."
Specimen Days
[amazon]
Specimen Days [shop locally]