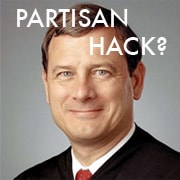 When everyone was focusing on that decoy Edith Clement yesterday, Bush went out and got himself a justice nominee who has been a judge for only two years. Said Bush, "He has the qualities that Americans expect in a judge: experience, wisdom, fairness and civility. I believe that Democrats and Republicans alike will see the strong qualifications of this fine judge."
Is that the case? Roberts seems to have offered somewhat diverging opinions on Roe v. Wade. He helped author a brief for the first Bush administration solidifying their opposition to Roe v. Wade but during his own confirmation hearings two years ago, he said, "Roe v. Wade is the settled law of the land. There's nothing in my personal views that would prevent me from fully and faithfully applying that precedent."
Roberts has written close to nothing on LGBT issues, but it seems that his views on the constitutional right to privacy will be what are inspected most closely on the road to his confirmation. Craig Crawford recalls the Souter nomination in the Huffington Post:
"I'll never forget the stunned faces among senators and spectators on the day 15 years ago when Supreme Court nominee David Souter answered that question in the affirmative. It was the first answer of his Senate confirmation hearing, and it showed that he embraced the legal underpinning of Roe v. Wade's protection of abortion rights. Conservatives were furious, never forgiving President George H.W. Bush for naming Souter. Liberals were shocked, quickly endorsing his nomination."
The Religious Right seems satisfied, with the president of the Family Research Council clucking, "The president is a man of his word. He promised to nominate someone along the lines of a Scalia or a Thomas, and that is exactly what he has done."
A Scalia or a Thomas? Now, that's not good news.
Howard Dean's statement was noticeably cautious: "It is disappointing that when President Bush had the chance to bring the country together, he instead turned to a nominee who may have impressive legal credentials, but also has sharp partisan credentials that cannot be ignored. Democrats take very seriously the responsibility to protect the individual rights of all Americans and are committed to ensuring that ideological judicial activists are not appointed to the Supreme Court. The Senate Judiciary Committee will now have the opportunity to see if Judge Roberts can put his partisanship aside, and live up to a Supreme Court Justice's duty to uphold the rights and freedoms of every American and the promise of equal justice for all."
Planned Parenthood: "The nomination of John G. Roberts raises serious questions and grave concerns for women's health and safety. It is particularly troubling that Roberts went on the record calling for Roe v. Wade to be overturned when he served as a lawyer for the government."
Human Rights Campaign's Joe Solmonese: "With the Roberts nomination, the right to privacy and the future of a fair-minded Court are in grave danger. Judge Roberts has disputed the right to privacy laid out in Roe v. Wade, and urged that the case be overruled. Reversing Roe could undermine fundamental rights to privacy and liberty that are the legal underpinning for the freedom of gay, lesbian, bisexual and transgender Americans."
It seems that Bush has chosen a nominee with a very limited professional record (perhaps the most calculated decision of all) so I'm sure we'll learn much more in the weeks ahead and when the confirmation hearings begin in late August.
Until then, let's put the focus back on Karl Rove and the crimes he may have committed against this country.