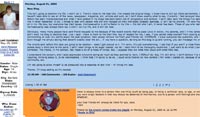 For the first time since his release on Friday from the Love in Action camp for gay reparative therapy, Zach has posted to his blog and while it is reassuring to see that at least he is being allowed to communicate with the rest of the world, it's hard to not be concerned about the kind of experience he has been through:
"Love In Action has been misrepresented and what I have posted in my blogs has been taken out of perspective and context. I don't take back the things I've said, nor am I going to pretend like it never happened. It did. I refuse to deal with people who are only focused on their one-sided (biased) agendas. It isn't fair to anyone. I'm very frustrated with the things going on in my life now, but everyone has their issues. Homosexuality is still a factor in my life— it's not who I am, it never has been. Those of you who really know me, know that homosexuality was always there but it didn't run my life, and it will not now."
Without knowing the specifics of what Zach has gone through at Love in Action, or the talks he has had with his parents, or what he has seen of the media response (not all of it, he says) it's the kind of inscrutable blog post one could argue on about for hours.
Are those with "one-sided agendas" the people arguing that an adolescent should have the right to his own free will, or are they the Love in Action counselors who have imposed their beliefs upon this sixteen-year-old? There are too many unknowns in this equation for anyone to solve it. I just hope that Zach eventually has the wherewithal to eventually make up his own mind about who he is once this event is all sorted out.
Meanwhile, A letter written by John Evans, co-founder of the Love in Action program, was released over the weekend. It was sent to the program's current director, John Smid. Evans slams the program, claiming that it causes great disturbance in the emotional lives of those who have been through it:
"In the past 30 years since leaving the 'ex-gay' ministry I have seen nothing but shattered lives, depression and even suicide among those connected with the 'ex-gay' movement. I challenge Christians to investigate all sides of the issue of being gay and Christian. The Church has been wrong in the past regarding moral issues and I'm sure there will be more before Christ returns."
Related
Zach's Release from Love in Action Imminent [tr]
Zach's Father Speaks Out [tr]
"Love in Action" [tr]