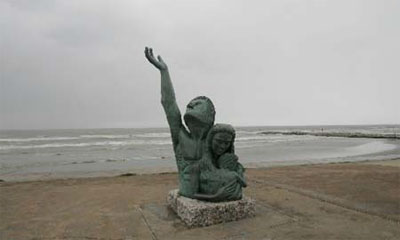 NYT: Bush skipped Texas because he didn't want to get in the way, plus it was too sunny for a good photo-op.

An analysis of Hurricane reporting; praise for Anderson Cooper.

A disturbing account of the evacuation from Houston. "In roughly 12 hours, we had only made it about 50 miles outside of Houston. We were literally in the middle of nowhere. There was no gas to be found. To Texas' credit, we were saved from sitting on one of these roads by a cowboy that yelled something about an alternate route as we drove by and gave us directions. This guy was obviously not a pussy like the rest of his statesmen. He referred to the road and situation we were on as "two hour bullshit" (though it was taking way longer than that to get anywhere)."

Operation Eden: A heartwrenching blog by photog Clayton James Cubitt recounting his family's experience following Katrina.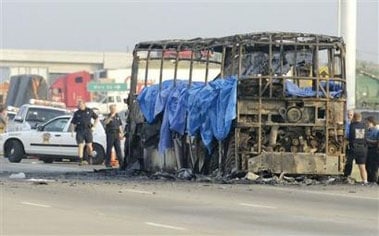 I'll be updating this thread with related links. Best of luck to those in the region.

Rita falls to Category 3. Bush says he'll stay out of the way: "We're now facing another big storm. Our job is to prepare for and assist state and local people to save lives and help these people get back on their feet. There will be no risk of me getting in the way. What I will do is observe."

Elderly woman who was caught in traffic dies.

Houston Mayor: "Being on the highway is a deathtrap." Evacuation riddled with problems.

New Orleans: Water pours back into Ninth Ward. "Our worst fears came true. The levee will breach if we keep on the path we are on right now, which will fill the area that was flooded earlier."

Texas National Guard dispatches tankers with gasoline to stranded motorists along U.S. 290, U.S. 59, Interstate 45 and Interstate 10.

Evacuee bus filled with elderly explodes, burns.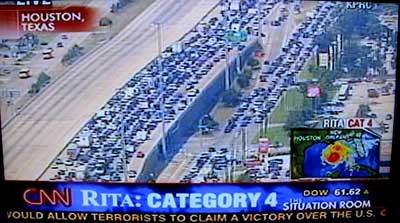 Largest evacuation in Texas history.

Thousands in Houston flee Rita. Thousands are standing in stalled traffic as gas runs out in the region. CNN just asked why they aren't opening up the clearly available southbound lanes (above) to northbound traffic.

Rita downgraded to Category 4.

Will the aged and infirm be forgotten again? "Hortense Davis is waiting at the Houston Greyhound station for a bus that may not be coming. The 73-year-old woman called the Red Cross today to find out what she should do about the storm. She said she was told to go to the bus station and tell them she had no money and needs to get out of the city. 'But when I got here, they said they couldn't help me,' she said. 'So now I'm just sitting here.'"