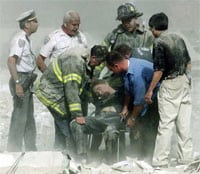 The Vatican's rumored plans to bar gays (including those who are celibate) from becoming priests have turned the world's eyes back to the Rev. Mychal Judge, killed in the rubble of the World Trade Center on 9/11.
The Sunday New York Times surveys the reaction to the Vatican's plans by Judge's many admirers including Burt Kearns, owner of the website Saint Mychal: "If you look at the work and life of Mychal Judge, this is a man who should be on the recruiting poster for Catholic priests. He was a great priest." These feelings were echoed widely across the internet. Michael Demmons at Gay Orbit reflected on the tender moment as his body was pulled from the wreckage.
Andrew Sullivan told the Times, "The idea that gay priests somehow cannot serve straight congregants, when you have this priest working with one of the most stereotypically macho organizations – and he gave his life to them – captures some of the cruelty and bigotry we see in the Vatican now."
A Towleroad reader emailed me yesterday about Father Mychal, saying "I met him during [an AA] meeting in Chelsea on Ninth Avenue (it was no secret that he was in AA, he even told President Clinton that he believed AA had done more good than Mother Teresa). We would walk down the street from the meeting to 23rd street and Eighth Avenue and he once said, 'Isn't God wonderful!' I asked why and he pointed out, 'look at all the beautiful men out on a Friday night.' I have many stories about Mychal….as do so many. He helped this confused Catholic find faith again. He was a wonderful man, the man who after John O'Connor's funeral went down to his crypt and said, 'see you in hell.' — since O'Connor had demoted him for his early work with people with AIDS."
While other priests have begun to speak out, as I noted last week ("Do you want to work for an organization that barely tolerates your existence and says that people like you can no longer be accepted? What kind of self-hatred is necessary to continue in a place like that?"), Mychal Judge is not here to offer a statement, only the prayer that he left behind.
The Vatican seems determined to keep gays "out of God's way," but the price they're willing to pay exposes how dark the selfish soul of the Roman Catholic church has become.
Admirers of Fallen 9/11 Hero Disdain the Vatican's Likely Plan to Bar Gays as Priests [nyt]