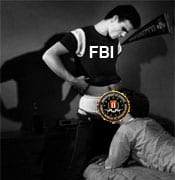 A job posting sent out by the FBI's Washington Field Office to its 56 field offices says it's searching for agents for a new anti-obscenity squad. It's described as "one of the top priorities" of Attorney General Alberto Gonzales.
"The new squad will divert eight agents, a supervisor and assorted support staff to gather evidence against 'manufacturers and purveyors' of pornography — not the kind exploiting children, but the kind that depicts, and is marketed to, consenting adults."
Said one "exasperated agent" to the Washington Post: "I guess this means we've won the war on terror."
Just what we all need our taxpayer money spent on.
Recruits Sought for Porn Squad [washington post]