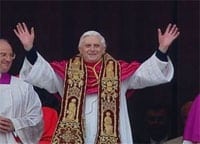 The questioning of 25 candidates for priesthood has begun at Aquinas Institute of Theology in St. Louis following the Vatican's orders that not even celibate gays will be allowed to be ordained into the Catholic church.
"Is there evidence of homosexuality in the seminary?" and "Are there signs of particular friendships?" are just two of the questions that must be answered by the holy hopefuls.
The President of Aquinas Father Charles Bouchard objects to the probe but will let it continue: "Some people do feel homosexuality would disqualify a student. I hope we can provide evidence that should not be the case. We don't want to make it look like it's just a question if someone is gay or straight. But whether they have the ability to live celibate and be effective ministers. I think it might be relevant in as much as that it answers some people's question that possibly there is a link between homosexuality and pedophilia. I don't think that link exists, so I'm not afraid of that question."
The seminary, located on the campus of St. Louis University, is the first of 229 to be vetted in the next nine months.
Aquinas Seminary is First for Scrutiny [st. louis today]
Gay Inquisition Begins at Missouri Seminary [365gay]