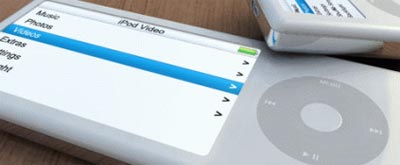 Rumors of a new Apple product generate as much chatter among the techno-geeks as a Nick and Jessica break-up or a Lindsay Lohan automobile accident among the gossip blogs.
Next week's "special announcement" from Apple inspired a major article in the L.A. Times today as rumors of a video iPod swirled around the internet.
"Speculation that the company would unveil a video iPod has circulated for months. It intensified Tuesday, when the company e-mailed an invitation to journalists that said 'One more thing' against the backdrop of what looks like a movie theater curtain. 'One more thing' is a phrase that Jobs often uses during product launches. 'When Steve Jobs says 'one more thing,' that's usually when the bombshell drops,' Michael Gartenberg of Jupiter Research said."
In fact, there is a slavish cult devoted to creating mock-ups of the video iPod.
However, Think Secret, who originally published the rumor that this was to be the introduction of the clip-playing device, now says that Apple's presentation will be devoted to a new iPod, but not a video version…perhaps a new color, a new size, or one that offers a continuous feed of Paris Hilton's whereabouts.
What would you want to play on a video iPod?