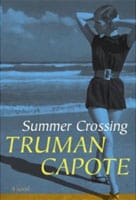 Truman Capote's first novel Summer Crossing
is published today and is receiving mixed reviews. The novel was abandoned by Capote on the curb outside his apartment in Brooklyn Heights when he moved after the success of In Cold Blood
. It was rescued by a housekeeper and the manuscript ended up in an auction at Sotheby's early last December.
The novel was never meant for publication. Capote went on to write his published debut Other Voices, Other Rooms.
New York Daily News: "The problem with "Summer Crossing," besides its static writing, strained dialogue and transparent characters, is that it is boring. However, there are a couple of flashes of things to come."
The Book Standard: "Touching on hot-button issues of class, religion, ethnicity, sex, drugs and inappropriate evening wear, it makes a wonderful thing for scholars, who will be delighted to find Capote in possession of a confident voice and superb storytelling skills while just in his early 20s. Capote, though, is not just for the scholars, as those memorable though long-ago moments on the Tonight Show attest, and readers who prize a good, solid storytelling should be well pleased by Summer Crossing, too."
Sydney Morning Herald: "Nonetheless, the publication of a posthumous Capote novel is a literary event. The author died in 1984 but his reputation as a leading man of American letters endures…"
And if you haven't yet seen Capote starring Phillip Seymour Hoffman, by all means get yourselves to the movie theater. Hoffman's performance as the author is riveting.
Related
That Capote Film [tr]
Truman Capote's Past Up for Auction [tr]