Some eerie wire photos of Cancun, Mexico as Hurricane Wilma approached on Wednesday evening (left) and Thursday.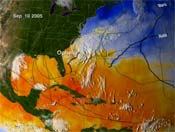 The storm is still predicted to pass just north of Key West.
At least one right wing rag is already associating the hurricane with a homosexual party, that being Fantasy Fest in Key West. They quote the lovely Alabama Senator Hank Erwin: "America has been moving away from God. The Lord is sending appeals to us. As harsh as it may sound, those hurricanes do say that God is real, and we have to realize sin has consequences."
Check out this link for a fascinating time-lapse visualization of the Atlantic Hurricane season.