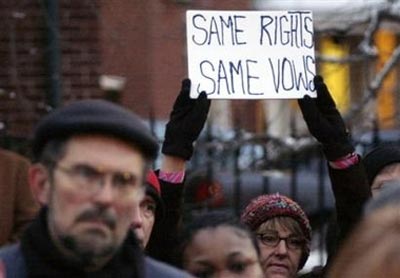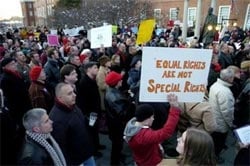 Galvanized by last month's ruling by a Baltimore Circuit Court judge that a 1973 law that defines marriage as between a man and a woman was discriminatory and unconstitutional, hundreds of people turned out for a rally in Annapolis sponsored by Equality Maryland.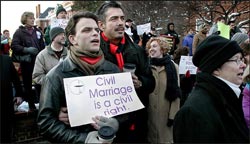 Armed with banners, signs, contact lists, and tip sheets, many supporters met with lawmakers who are now involved in a heated debate over the issue. Dan Furmansky of Equality Maryland led the rally, speaking out against a discriminatory marriage amendment:
"It says we are not part of the provisions of the constitution; it says we are not citizens of the state of Maryland. And no matter what one thinks about the recent decision in the judiciary, it is not morally OK to change a constitution to say it applies to everybody but one group of people."

Kweisi Mfume, former president and chief executive of the NAACP, and now a Senate candidate, also spoke: "I believe the struggle at the end of the day is for equal protection for all people."
BILL FRIST: DR. DISCRIMINATION
In other gay marriage news, Senator Bill Frist is eager to start Gay Pride Month off right and get going on a renewed effort to put discrimination in the U.S. Constitution. He says he wants a Senate vote on an anti-gay marriage amendment to happen June 5th, before the Senate schedule fills up.
Harry Reid charged Frist with trying to galvanize his political base for mid-term elections with issues that are not top priority. His spokesman said: "At a time when we have so many other pressing issues facing the country, I'm not sure where this falls in the list of priorities."
HEALTH BENEFITS
Finally, researchers are touting the health benefits of gay marriage, noting the higher incidence of depression, drug abuse and cancer in the gay community:
"The report said studies had shown those who are in a stable relationship, of either the same or opposite sex, enjoyed some health benefits. It cited Swiss research which showed patients with HIV in stable partnerships were more likely to progress more slowly to AIDS. And other studies have revealed that married same sex couples had greater openness about their sexual orientation and closer relationships with their relatives than same sex couples not in civil partnerships."
Bill Frist is a doctor. How interesting that the bigot is actively working against the health of the people.
WELD MEDDLE
And finally, former Massachusetts Governor William Weld came out and said "I would veto any bill to legalize same-sex marriage in this state (New York)." Funny how things change. Weld was a supporter of gay marriage in Massachusetts in 2004 when he wasn't aspiring to run for office in the Empire State.
Demonstrators Urge Halt to Anti-Gay Marriage Bills [baltimore sun]
Same Sex Marriage Ban Draws Protest [washington post]
Frist Plans June Vote on Gay Marriage [cnn]
Gay Marriage is Good for Health [bbc]
Weld voices his right: Ban gay nups [ny daily news]