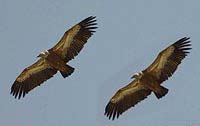 Yehuda and Daishik, a pair of male vultures at the Jerusalem Biblical Zoo who have been operating as a couple and raised three chicks over the last three years, have split.
Daishik recently shacked up with a new female partner, and, following a visible bout of sadness, Yehuda did as well.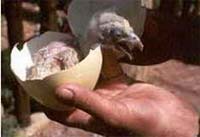 Zookeepers were excited that Yehuda and Daishik had come together to nurture the eggs because the Griffin vultures are nearly extinct and any opportunity to raise their numbers has been welcomed. But the zoo's director is even happier that the pair are exhibiting heterosexual tendencies.
Despite the fact that Yehuda showed all the signs of depression one would typically expect from a scorned lover when Daishik opted for a lifestyle change, zoo director Doron was happy to see first Daishik and then Yehuda choose female partners. "We have no intention of making any attempt to reintroduce the male vultures."
The two vultures have, however, announced their plans to take fishing trips together.
Jerusalem Biblical Zoo's 'gay vultures' return to the closet [haaretz.com]
Previously
Gay Couple Respected in the Flamingo Crowd [tr]
Breaking Gay Penguin News [tr]
Penguin Pride [tr]
Something for the Kiddies [tr]
Maybe It's Just a Phase [tr]
The P Word [tr]