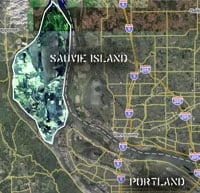 A 53-year-old Sauvie Island, Oregon psychiatrist was victimized by homophobic vandals last week in a disgusting display of hate.
According to the Oregonian, George Soule had recently lost his longtime companion David Pennington to a 25 year battle with AIDS, during which Soule maintained a "skilled nursing facility" in the couple's home.
But Soule returned home last week to find clear references to his partner and messages of hatred spray painted on his truck and inside his home, which was broken into by the vandals.
"Die like your lover," said one of the messages. Local News Station KGW reports that the hate crimes have brought the already "tight-knit" community closer together.
Police have no leads so far on the vandals or any motive for the attack. Hopefully these creeps will be found and brought to justice.
Anti-gay Slurs Left on Sauvie Home [the oregonian]
Hate crime against doctor has Sauvie Island outraged [kgw]