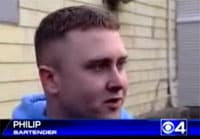 Early this morning, a man walked into the Puzzles Lounge in New Bedford, Massachussetts, asked the bartender if it was a gay bar, and began attacking patrons with a hatchet and a gun.
Three victims were shot, two in the face and one in the stomach. Their conditions are unclear at this time, and the attacker is still on the loose.
New Bedford is an old New England whaling town of nearly 100,000 citizens not far from Cape Cod.
Three People Shot in New Bedford Gay Bar Attack (videos) [cbs4 boston]
Man Pulls Machete, Hatchet, Gun on Bar Patrons [boston globe]
3 Shot in Gay Bar Attack [wcvb]
This Doesn't Happen in America [proceed at your own risk]