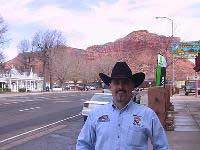 The director of tourism for Kane County in Utah is concerned that the town of Kanab's endorsement of a 'natural-family resolution' will turn off visitors.
The nonbinding resolution – drafted by the conservative Sutherland Institute – calls marriage between a man and woman "ordained of God" and urges homes to be open to a "full quiver of children." It also encourages young women to become "wives, homemakers and mothers" and young men to grow into "husbands, home builders and fathers."
What is he worried about? They've got the sexist and bigot markets absolutely sewn up. Which makes some Kanab residents really happy.
"I salute Mayor Kim Lawson and the council," writes Katie Thomas, who noted she came to the area 32 years ago from California seeking a quieter way of life. "Many of those who are offended and opposed to the proclamation . . . may have an agenda that would bring the kind of changes that could redefine all that we came for."

The Rev. Doug Hounshell says he "thanks God for a community that doesn't think it has to be 'gay-friendly.' "We don't mean to be mean-spirited," says Hounshell, pastor of Cliffview Chapel Baptist Church in Kanab. "But the message to a homosexual might be that this is probably not the friendliest town for that type of thing."
They don't mean to be mean-spirited, but they do run a booming tire iron business.
Kanab's 'natural family' decree spawns tourism backlash [salt lake tribune]