In case you missed the 60 Minutes Lesley Stahl piece on sexual orientation the other night, The Malcontent has a clip of it.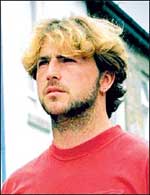 TABLOID: Focus turns to gay son in strangling and stabbing deaths of British couple on Crete: "Expats in the small village of Almirida, near the port town Chania in the west of the Greek island yesterday revealed Ryan was known to be gay — and claimed his sexuality had driven a wedge between him and his dad. One Brit said: 'Everyone here either guessed or knew Ryan was gay. I never saw him with a boyfriend, but there was no doubt which way he leant because he is a very effeminate lad. His dad was known not to like that fact at all and it seemed to have caused a split in the family. There was a lot of tension between them and a lot of unresolved issues.' According to the paper, Ryan Johnson will be formally charged with their murder.

John Travolta in talks to star as JR Ewing in Dallas remake. Also in talks are J Lo for Sue Ellen, Luke Wilson for Bobby and Shirley MacLaine for Miss Ellie.

Anti-gay Massachusetts Governor Mitt Romney is reportedly drafting a "very narrow bill" that would exempt Catholic Charities from the state's non-discrimination law so they won't have to place adoptions with gay couples.

Leaked screenshots from Google's forthcoming Ajax calendar app.