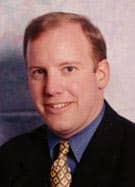 The right-wing Christian wingnuts are getting desperate about going after gays. Here's what Illinois Family Institute's leather-obsessed Peter LaBarbera told the riled-up Bible-beating crowd at the War on Christians conference on Tuesday. From Salon:
Perhaps worrying that anti-gay rhetoric hasn't been sufficiently inflammatory lately, some speakers urged listeners to start using more scatological and stigmatizing language. Peter LaBarbera, who heads the Illinois Family Institute and is known for his obsession with gay men's most outré sexual practices, told the audience, "My greatest frustration has been our side's inability to make homosexual behavior an issue in the public's mind." In order to inspire the kind of revulsion he wants to see more of, he read from a posting on a gay message board: "Hey guys, I know this is kind of gross and all, but I was wondering if I'm the only one. I'm usually the bottom in my relationship with my boyfriend. After having been the receptive partner in anal sex it's only a few hours before I start to experience diarrhea … it really stinks, because I really like sex, duh, but it takes the fun out of it when I know I'll be tied to the bathroom for the next day."

"I don't think so-called GLBT teens are told anything like this" by their school counselors, LaBarbera said. "We need to find ways to bring shame back to those who are practicing and advocating homosexual behavior."
LaBarbera should really stop trying to find answers to his problems on the message boards. Somebody send him a Fleet. We always knew that the Religious Right was full of shit. Now we know they're obsessed with it too.