The last banner was a photo of a Gary Hill video sound installation which is displayed at the Museum of Modern Art in New York. The installation, called "Inasmuch as It Is Always Already Taking Place" was created in 1990.
It's a fascinating piece — basically a self-portrait of Gary Hill himself. Each monitor broadcasts an image of the artist's own body and the monitor size corresponds to the size of the body part which it displays. The installation is intended to recreate Hill's body as a living, breathing entity via a system of wires and monitors that connect back to something in the dark recesses of the space — the unseen part of a man, the soul.
For my own purposes, I collapsed the photo. I thought it appropriate to use here in a space where the objectification of the male form is also broadcast via the monitor you're looking into right now.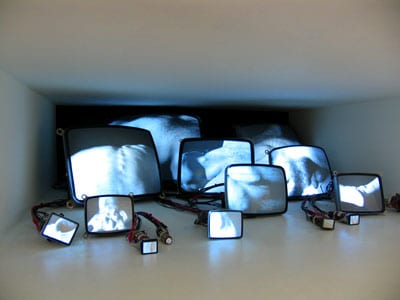 Previously
About the Banner #7 [tr]
About the Banner #6 [tr]
About the Banner #5 [tr]
About the Banner #4 [tr]
About the Banner #3 [tr]
About the Banner #2 [tr]
About the Banner #1 [tr]