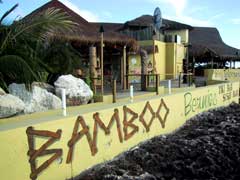 Senior CBS Nightly News producer Richard Jefferson and his friend Ryan Smith were harassed and brutally attacked by gay bashers on the island of St. Maarten early Thursday morning after leaving a bar. Jefferson "sustained severe cuts on the back of his head and his lower back" while Smith "had a fractured head and has been unable to speak properly since the incident," according to the St. Maarten Daily Herald.
The two were beaten with a pipe wrench after leaving Bamboo Bernie's, where they had been harassed by the suspects, who apparently followed them in a car and jumped them.
The St. Maarten Police have so far neglected to even contact the victims: "Jefferson said he had learnt that many people, including management at Sunset Beach Bar, Maho St. Maarten, a nearby casino and Bamboo Bernie's, had called the St. Maarten Police, but no one showed up. He said he had called the police station on Thursday around 1:00pm and had spoken to a detective, but no one showed up at the hospital or called."
Note: The news article says Jefferson is with NBC, but I have been informed he works for CBS; Smith works for 48 Hours.