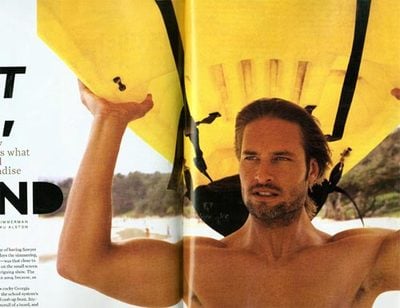 More details have been released regarding the new interactive game The Lost Experience we posted about last Friday. The first clues for the international interactive game, which will follow a group of castaways not featured in the show, are set to be released in the upcoming week.
According to the New York Post, the clues will be revealed "May 2 during the program's broadcast on Britain's Channel 4, May 3 on ABC and May 4 on Australia's Seven Network. Singapore's Channel 5 and Star India are among the others participating." Said an ABC exec: "It's like a giant, mysterious jigsaw puzzle that will come to life for all the world to solve, whether you are a fan of the TV series or not."
And you know, all this gives us an excuse to show you these new shots of Josh Holloway from Men's Health. Although Sawyer may not be part of that interactive game, he certainly knows how to push our buttons.