I didn't get a chance to cover this yesterday, so here goes. Jason Johnson, a student at Kentucky's University of the Cumberlands, was recently "dismissed" from school for saying he's gay on his MySpace profile.

A University spokesperson said the Baptist school has the right to expel a student who "promotes sexual behavior not consistent with Christian principles." Johnson's story has spread quickly around the internet, and last Thursday, his boyfriend Zac Dreyer began a campaign to get Johnson's story out.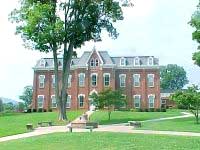 From Dreyer's blog:
"I ask that you do what you can to help stop this attrocious act of discrimination on gays and lesbians at Cumberland. Help get the story out there so that all the gays and lesbians at the University will no longer have to live in secrecy in fear of having their dreams crushed in front of them. Get the story out to the news, the newspapers, spread it through the internet and if you are daring enough call the President of the University yourself, as I have done to see that this discrimination is stopped."
And Johnson left a thank you message there as well:
"Thank you for all of your support and encouragement throughout this time. Although this has been a difficult past couple of days, I am confident in what has happened thus far, and what is coming up in the next few weeks. Your words of encouragement have kept my spirits up and made it that much easier for me to continue this cause. At this time, I cannot respond to indvidual comments or messages, but I am hearing them, reading them, and they are moving me. Continue speaking out against discrimination, not just by what is happening at University of the Cumberlands, but throughout the nation. 'Injustice anywhere is a threat to justice everywhere' (Dr. Martin Luther King, Jr) Thank you, from the bottom of my heart."
Dreyer's call to action and Johnson's predicament have prompted some students at the Christian school to speak up about the university's actions. Said student Renee Kuder: "They're being hypocritical, by Christian standards. If we love each other, accept each other for who we are, why are they kicking him out? I almost feel like they're trying to mold us, me, into a person that I wouldn't want to be. There's a letter in the student handbook that says everyone is a unique creation of God, you're special, we care about you. They didn't care if he didn't have a place to go. They could have pretty much ruined his life."
Amen. Best of luck to Jason.
Reaction Grows to Gay Student's Expulsion [lexington herald leader]
Student Expelled After Revealing He's Gay On MySpace [mtv]