Alaskan workshop on gay Native Americans opens up window on culture of silence: "'I myself am a survivor of a hate crime,' he said, then shared a story of being attacked by four thugs outside a gay bar in Phoenix in 1992. They tripped him, kicked him and pounded his head with a rock. Naswood didn't go to the hospital. He didn't seek help from police. 'I didn't want to report it. I felt shame.'"

Study: Lesbian brains react much like those of heterosexual men.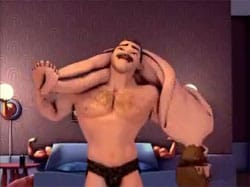 Check out this great French campaign for AIDS awareness.

Someone has won the Johnny Weir poetry contest and will receive — ooh, aah — an autographed photo from the skater-pin-up. I agree with Outsports. The prize should have been a shopping spree.

Brokeback Taunting: Four frat brothers at the University of Vermont have been charged under Vermont's hazing for an incident which occurred last month in which pledges were required to dress up like gay cowboys and ridiculed with homophobic comments. The charge carries a $1,000 fine.

Martina Navratilova, a Czech who is now an American, has called Czech President Vaclav Klaus a homophobe after he vetoed same-sex marriage legislation: "He does not consider homosexuals to be 100 per cent human beings. I know I cannot change his mind but I did think he was more liberal than this."

One of my favorite female vocalists, Feist, is featured in a new fanblog filled with her tracks, remixes and interviews, including this one about her album Let it Die. (via sf culture blog)