A violation of first amendment rights? Congress passes legislation that would ban protests at military funerals at national cemeteries in response to Fred Phelps' anti-gay picketing.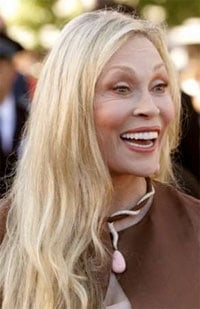 Dunaway storms Cannes: "I want you to tear down that bitch of a bearing scowl and put a cheekbone where it ought to be!"

Washington county Gay Pride proclamation sends shivers through the wingnuts: "While I do agree we don't want discrimination, I don't believe it exists in the county. I don't believe government should be taking a position on any lifestyle."

Military discharging two soldiers per day for being gay, despite war.

Las Vegas teacher fired from Catholic school after declaring he likes men on his MySpace page. Student: "He's a really good teacher, very creative. He really tries to get the kids into learning. He should have every right to do what he wants as long as he doesn't bring it into the school, which he didn't."

The folks at Curbed have started a new blog all about life in the Hamptons.

Follow your bliss: Anderson Cooper makes Yale commencement address.

Forget the jazz hands. Which superpower would you want, invisibility, flying, or shooting rainbows out of your fingertips?

Cyndi Lauper to warble at Gay Games closing ceremony.

Tormented Big Brother UK contestant Shahbaz Chauhdry said a history of sex abuse was to blame for his emotional instability. Said Chauhdry: "I had to leave. I had no choice. I am disturbed. I never saw the breakdown coming. It's because of everything I've been through from childhood to adulthood – home-lessness, starvation, sexual abuse, molestation and ostracisation."