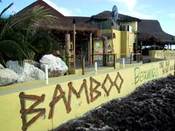 Two new arrests have been made in connection with last month's gay bashing of Dick Jefferson and Ryan Smith on the island of St. Maarten. Prosecutor Taco Stein said that a man and a woman, both of whom live on the French side of the island (St. Martin), have been taken into custody under suspicion of inflicting grievous bodily harm to the two men. One man is already being held.
Stein says more arrests are probable.
I heard from Dick Jefferson a week ago. He was on his way back to the island to pursue the case further. Jefferson told me then that an agreement between the Dutch and the French to work on the case is very rare and offered some information on the man already being held: "Under the Dutch system you can hold anyone as long as you want as long as they are relevant to the case. The guy 'may' have been in the car, but doubt it. More likely, he was with them inside the bar."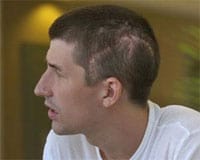 UPDATE:
I heard from Dick Jefferson today.
He writes:
"The arrests are a direct result, according to the Prosecutor, of the continued news coverage of the events and the agreement between the French and Dutch to cooperate. The suspects who turned themselves in were pressured by their families to do so, otherwise be caught and have to spend time in the French prison on Guadeloupe, rather than the Dutch prison in St. Maarten. I hope the friends and family of the other assailants will see the wisdom in helping the island recover from this brutality and cooperate with the authorities, or even better, convince them to turn themselves in. If the entire island works as one, they will realize there is no where to run, no where to hide, and no way to win."
Thanks, Dick. I'm glad to hear they are making progress and bravo to your efforts. With continued attention I hope the rest of these criminals will be caught soon.
For those of you wanting an update on Ryan, Dick pointed me to this recent piece in the Miami Herald which includes an audio interview. Ryan is staying in Miami Beach during his recovery and still has trouble writing and speaking. Towleroad wishes him a speedy recovery…
Previously
St. Maarten Gay Bash Update II [tr]
St. Maarten Gay Bash update [tr]
St. Maarten Gay Bash Attack Victim Speaks Out [tr]
Brutal Gay Bashing on St. Maarten [tr]