Hotline providing psychological, legal and HIV services for gays and lesbians launched in two Chinese cities.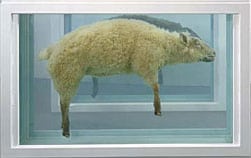 Modern art records shattered at Christie's sale: "Away from the Flock, Divided" (1995), by Damien Hirst, went for 3.4 million dollars. Warhol, Hockney, also go large…

British MP David Borrow is the first MP to take part in a civil partnership: "It was lovely. We really are delighted and so are the family. There comes a point in every relationship where you say 'So, are we going to get married then?' Ten years ago it would have been difficult to imagine that a marginal seat like mine could select someone who was openly gay. It was all very private, just what we wanted. I changed the original date because John had become upset that it was going to be a media circus."

David Bowie to curate inaugural High Line festival in May 2007, based around New York's newest, coolest outdoor space.

Cast of Will & Grace begins its farewell tour with a stop to see Oprah: "The most awkward moment is absolutely Oprah's question to Eric McCormack about being a straight man playing a gay character, as the crickets chirp and the camera pans to a Sean Hayes who has no intention of touching the topic with a stolen Cher wig."