California State Senate approves bill to offer "age appropriate" lessons on gay history in public schools.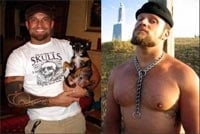 LOGO "cancels" Provincetown reality show: "The network, which currently has about 10 million viewers across the country, never actually bought the idea for "P'town" from Go-Go Lucky Productions, but gave every indication that they were interested, say those close to the show."

23-year-old lover arrested for gay double murder in Delhi, India.

Woman scorned? Teri Hatcher suggests Ryan Seacrest is gay.

Supreme Court decides to let states decide custody disputes concerning gays who seek parental rights.

Is Richard Dreyfuss' gay Poseidon character anything new?
AE: "He represents the sort of bravery by necessity that any non-action hero type of person would display in a true disaster. Of course he's terrified as rooms flood with water and corpses float past him, but he's not clutching his pearls and bursting into flames. Nelson is just as eager to help pry a door open as he is to comfort a claustrophobic passenger who doesn't want to escape through an airshaft. Despite his terror, Nelson even has the pluck to flirt with a waiter who briefly joins the group as they try to escape."

Laura Bush told FOX News on Sunday that the American people want a debate on gay marriage: "I don't think it should be used as a campaign tool, obviously. It requires a lot of sensitivity to just talk about the issue – a lot of sensitivity."