On Saturday, the Coral Ridge Presbyterian church in Fort Lauderdale was hosting one of Focus on the Family's "Love Won Out" conferences (I covered one in February that went down in St. Louis). They're basically ex-gay love fests that ride on the coattails of James Dobson's anti-gay organization.
A new group identified as The South Florida GLBT and Friends Interfaith Clergy Association, along with Florida PFLAG, and some help from the NGLTF, decided to stage a protest at the 10,000 member Coral Ridge venue.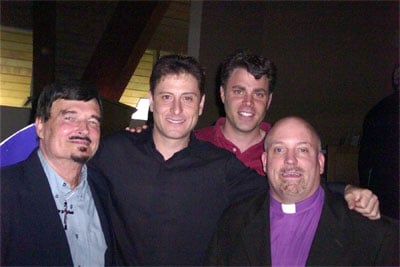 Friend of Towleroad (and Amazing Race winner) Chip Arndt sent me these photos which I'm happy to share. Chip was also at the protest with Rev. Jerry Stephenson, who was a Baptist minister for 15 years. Stephenson went through one of the ex-gay 'conversion' programs (unsuccessfully), accepted being gay, and now crusades against the ex-gays.
Here are some additional shots from the protest: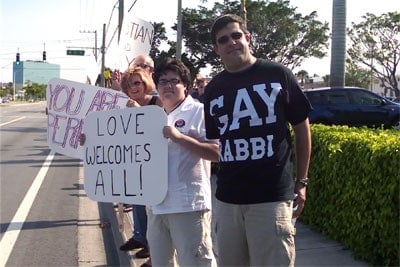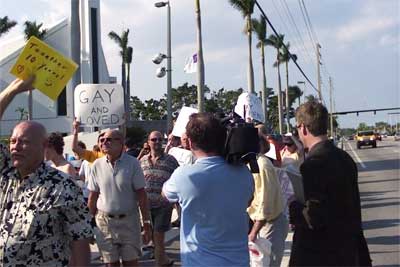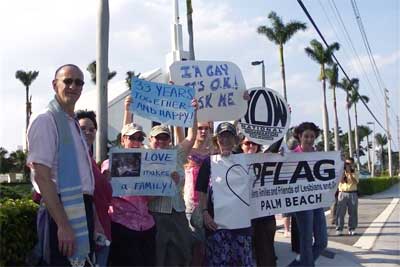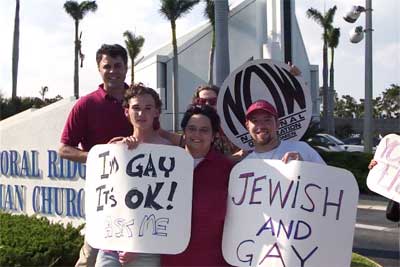 Coral Ridge pastor D. James Kennedy is about as anti-gay as you can get and wants to reclaim America for Christ and turn it into a Christian nation. He has said that the separation of church and state is a lie promoted by Thomas Jefferson. Anyway, the guy has a huge bastion of support — his church reportedly has an income of nearly $60 million a year and his TV program is accessible to 73% of America's households.
Also at the peaceful protest were Dr. Jack Dresher, psychiatrist, author, reparative therapy critic, Rev. Elder Nori Rost, MCC minister, Jason Cianciotto, author of the National Gay and Lesbian Task Force Policy Institute report "Youth in the Crosshairs: the Third Wave of Ex-Gay Activism", and Wayne Besson, author of Anything but Straight.
Bravo to Chip and this group for getting out there against the bigots.
Previously
Ex-Gay-a-Palooza Goes Down in St. Louis [tr]
Also
Conferences Present Differing Views on Homosexuality [sun-sentinel]
(thanks michael)