New York State same-sex marriage appeals to be webcast live here today beginning at 2pm EST.

Qantas Airways, which employees over 30,000 people, finally recognizes gay marriage after one of its employees forwards an email from Judge Alastair Nicholson stating that it would be the right thing to do. Nicholson: "There is nothing to stop a private employer permitting your husband to be described as your spouse on its documentation and I can see no legal impediment to it doing so. Indeed it would, in my view, be an appropriate step for it to take."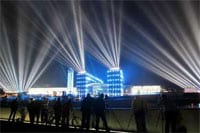 Ten years in the making: Berlin opens $950 million dollar railway station.

UNAids: HIV infection rate stable for first time in 25 years.

NYC Mayor Michael Bloomberg, who yesterday restated his support for gay marriage, says he expects city attorneys to fight it with gusto: "I would never want to hire lawyers that tried to lose – they will try to win."

X-Men or X-Gays?: "The ONLY thing I left the theater certain about was the explicit overarching social commentary throughout the film. I mean, within the first few minutes of the film ,we see a small child sawing off his wings, embarrassed because he knew his father would be so disappointed to have a mutant [fag] for a son."

TAB: New witnesses and new forensic evidence in Diana case.

They can care for them but not keep them: Indiana's double standard on adoption and foster care in the spotlight.

Associated Press deletes line in news story to make it more biased against Senator Harry Reid and his acceptance of boxing tickets from the Nevada state government: "Today, Josh Marshall discovered that AP appears to have edited its story and deleted the sentence that makes clear that Harry Reid was pushing legislation the Nevada boxing folks didn't like. I.e., AP just happened to delete the key line of their story that proves that Harry Reid isn't dishonest. And AP happens to delete this line from their story right after we all criticize them, using the line as proof that AP's story doesn't hold water."

Big Brother Australia accused of fabricating gay kiss. Contestant: "I never kissed David and I am not gay. It was the camera angles, it never happened!…There was no kiss . . . I think he is a good looking guy. I can see if a guy's attractive or not, but I am not sexually attracted to him."

New musical to open in L.A. set in the Hollywood jazz clubs of the 50's: "Inspired by 1950s film noir, the musical looks at the laws governing gay and lesbian clubs of the time; when women weren't allowed to bartend and men couldn't dance with other men; when every glance had a double meaning and every word was an innuendo and everything had to be done to strict code. Play It Cool is set against a sexy 1950s Hollywood backdrop and celebrates the gay men and lesbian women of that time who had the guts to break the rule."

Gay men are outperforming their straight counterparts as business leaders throughout corporate America: "So what does being gay or male have to do with successful business leadership? The reason gay men are outperforming the good-old-boys in business is due to a new paradigm for effective leadership that is proving to meet the needs and values of today's empowered workforce. Identified as the G Quotient, it is seven leadership principles rooted in the professional worldview of gay men that develops through learned skills such as adaptability, intuitive communication and creative problem solving. In the workplace, these principles are responsible for generating unprecedented levels of professional commitment among their employees. In fact, it's why 84 percent of more than one thousand employees reporting to gay men across four major economic sectors report high morale within their working environments — compared to 40 percent nationally."