Warner Bros. makes it official: Superman comes out of the closet.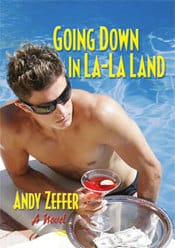 If you happen to be in New York, there are a couple of book signings happening in the next couple of days. Tonight, author Andy Zeffer will be signing copies of his novel Going Down in La-La Land
, a book about "what an actor can and will do to survive in Hollywood." That is starting at 9:30 tonight at Clubmartini at Vlada. Vlada is the new midtown spot where Cyndi Lauper and Alan Cumming were recently seen with their faces pressed to the ice strip on the bar. Tomorrow night, Chris Nutter will be signing copies of his new self-help book The Way Out
at Barnes & Noble with a party to follow at Elmo. More on what looks like a pretty inspiring read at Made in Brazil.

One additional book event to tell you about. There's a new gay anthology coming out which I think is particularly unique in that all of its writers are under the age of 23. It's called The Full Spectrum and was brought to my attention by one of my readers, Danny Zaccagnino, who wrote a piece in it called "When You're a Gay Boy in America." Proceeds from the book will go to GLSEN, an organization I wholeheartedly support. Among other things, GLSEN provides support for gay-straight alliances at schools around the country. They'll be having a launch of the book on May 30th at the LGBT Community Center in New York.

The New York Observer profiles gay Vito Joe Gannascoli, who says his role on The Sopranos has changed his life. But, he says, the fact that the show's actors don't appear that physically different from their characters has presented a few speed bumps: "'I got guys in my neighborhood who now give me dirty looks. I had a guy come after me in a club after doing that [blowjob] scene. And he was yelling stuff like 'You're a cocksucker!' and this and that. I was like, 'Who the fuck is that?' And they said, 'That's so-and-so's nephew, he just got out.' I was like, 'Well, he's a moron.'" (thanks jordy)